The Anzaldúa Poetry Prize
September 15, 11:59 PM
CDT
$15
Deadline: 15 September 2023
Guest Judge: Natalie Diaz
Award: First place is publication, $1,500 prize, 25 contributor copies, and royalties contract. Three finalists will be announced.
Reading Fee: $15
Enter: Open—share your writing with us today!
History
Our annual poetry prize proudly honors poet, writer, and cultural theorist, Gloria E. Anzaldúa. Anzaldúa's work highlights how one's being in the world is at once geographical, geopolitical, psychological, mythological, spiritual, and linguistic. She is well known for her book of prose and poetry, Borderlands/La Frontera: The New Mestiza, which draws on her experience as a Chicana/Tejana/lesbian/feminist activist—a revolutionary and inspirational work that continues to be so.
The Gloria E. Anzaldúa Poetry Prize is awarded annually to a poet whose work explores how place shapes identity, imagination, and understanding. Special attention is given to poems that exhibit multiple vectors of thinking: artistic, theoretical, and social, which is to say, political.
Why am I compelled to write? Because the writing saves me from this complacency I fear. …Because the world I create in the writing compensates for what the real world does not give me. By writing I put order in the world, give it a handle so I can grasp it. I write because life does not appease my appetites and hunger. I write to record what others erase when I speak, to rewrite the stories others have miswritten about me, about you. To become more intimate with myself and you. …To dispel the myths that I am a mad prophet or a poor suffering soul. To convince myself that I am worthy and that what I have to say is not a pile of shit. …Finally I write because I'm scared of writing, but I'm more scared of not writing.
—Gloria E. Anzaldúa, Speaking in Tongues
Guidelines
Send 15 to 30 pages of poetry. Please include no more than one poem per page.
Simultaneous submissions and previously published poems are acceptable.
All entries must be sent online via our submission manager and be contained in a single document.
A non-refundable $15 reading fee must accompany your work. If our reading fee is prohibitive, email editor [at] newfound [dot] org for a manuscript fee waiver. We can offer a few a year.
Students (past and present), relatives, and close friends of the judge are ineligible.
Deadline
The deadline is September 15th, 2023, 12 a.m., Central daylight time.
Prize
The winner will receive a prize of $1,500 plus 25 copies of the published manuscript. The author will have the opportunity to purchase additional copies at a discount.
The author will receive a royalties contract (25% print/50% digital) to sell the chapbook with Newfound.
Newfound will design, print, and bind the chapbook. The cover will be decided in cooperation with the winning author.
All finalists will be announced in December on the Newfound blog and social media channels.
All poems submitted for the award will be considered for publication in Newfound.
Due to the number of submissions, we cannot leave each manuscript personalized feedback. Authors will receive acknowledgment of receipt and panel decision. Check here for notification of the winner.
Judge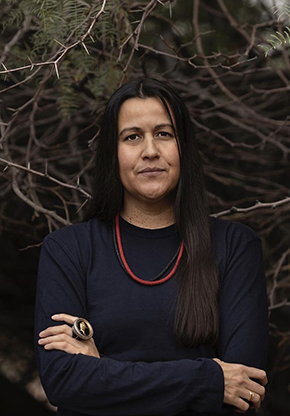 Natalie Diaz is Mojave and an enrolled member of the Gila River Indian Tribe. She is the author of When My Brother Was an Aztec (Copper Canyon Press, 2012) and Postcolonial Love Poem (Graywolf, 2020). A MacArthur Fellow, Lannan Literary Fellow, Native Arts Council Foundation Artist Fellow, and United States Artists Ford Fellow, Diaz is Director of the Center for Imagination in the Borderlands and the Maxine and Jonathan Marshall Chair in Modern and Contemporary Poetry at Arizona State University.
Open—share your writing with us today!
Related Events