Translation Talks
January 27, 2022, 7:00 PM

–

8:00 PM

EST

Free
The Griffin Poetry Prize is excited to launch Translation Talks, a series of conversations about translation and poetry where shortlisted and winning authors are invited to discuss their craft in company of other poets and translators.
Join us on Thursday, January 27th at 7pm ET on Zoom for our first Translation Talks, featuring Khaled Mattawa in conversation with Sarah Riggs.
Khaled Mattawa was a finalist for the 2017 International Griffin Poetry Prize for his translation of Adonis: Selected Poems (Yale University Press, 2016). Sarah Riggs was the 2020 International Griffin Poetry Prize winner for her translation of Etel Adnan's Time (Nightboat Books, 2019).
Image featured in banner: Sarah Riggs, "Missives to Etel, #5" ink and pencil on paper, December 2021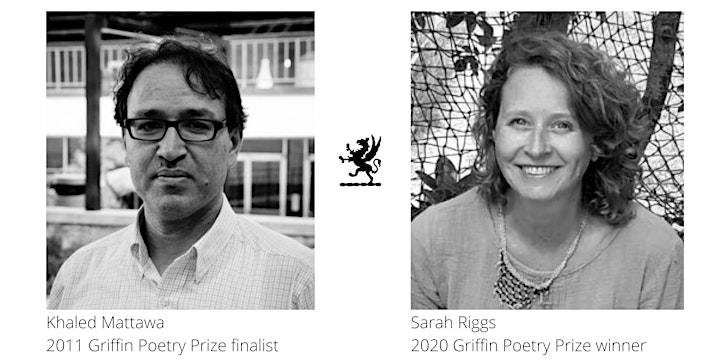 Khaled Mattawa is assistant professor of language and literature at the University of Michigan. Born in Benghazi, Libya, he emigrated to the United States as a teenager. He is the author of several books of poetry, including Tocqueville (New Issues Poetry & Prose, 2010), and has translated numerous volumes of Arab poetry, including Adonis's Concerto al-Quds (Yale University Press, 2017), Shepherd of Solitude: Selected Poems of Amjad Nasser (Banipal Books, 2009), and Miracle Maker: Selected Poems of Fadhil Al-Azzawi (Boa Editions, 2003). Mattawa has been awarded several Pushcart Prizes and the PEN Award for Literary Translation, in addition to a translation grant from the National Endowment for the Arts, a Guggenheim Foundation fellowship, the Alfred Hodder Fellowship at Princeton University, and a MacArthur fellowship. He served as a Chancellor of the Academy of American Poets from 2014 to 2020.
Sarah Riggs is a poet, author most recently of a collection of letter poems, The Nerve Epistle (Roof Books, 2021, New York) and of Murmurations (Apic, 2021, Algeria). Riggs received a 1913 Poetry Prize for her poetry book Pomme & Granite, as well as the 2020 International Griffin Poetry Prize for Etel Adnan's Time (Nightboat Books, 2019) which she translated from the French. Riggs' drawings, paintings and films have been shown internationally, including in France and the U.S., where she has lived, in Montreal where her mother is from, and in Morocco, where her life partner Omar Berrada is from. Together in 2004, Riggs and Berrada founded Tamaas, which means "contact" in Arabic, an international arts organization with a focus on earth arts justice which runs an annual poetry translation seminar and publication, as well as the podcast Invitation to the Species, projects through art, dance, and poetry, and is currently producing Alystyre Julian's film Outrider on and with poet and performer Anne Waldman. Find out more at tamaas.org and on Riggs' website www.sarahriggs.org.
The event will run for approximately one hour on Zoom and will be hosted by Griffin Poetry Prize social media director Mirene Arsanios and editorial director Adriana Oni??. You will receive the Zoom link after registering.
If you have any questions, please contact Mirene Arsanios at socialmedia@grififnpoetryprize.com and Adriana Oni?? at editorialdirector@griffinpoetryprize.com.